You know how, just before you leave for vacation, you realize that you have approximately 2 thousand things you have to do before you'll be ready to go? That's where I am right now, only it's amplified by the fact that the wedding is in 10 days. Weddings, it turns out, have a lot of last-minute logistics involved (when is the cake being dropped off? Who'll be there to pick it up? What time do we need to pick up the marriage license? Why are there no gnomes who can do all this while simultaneously cleaning the apartment?). Whoda thunk?
Since my to-do list is a) approximately as long as my arm, and b) about to spawn baby lists, I'm relying heavily on quick meals until after we get back from Colorado. My entry for this week's WIAW, hosted by the fabulous Jenn at
Peas & Crayons
, features many such quick fixes -- so if you're pressed for time too, hopefully this will give you some useful ideas.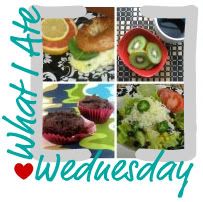 Since I get up at 5:35 to do some circuit training before going to work (only 25 minutes, so it's not too hardcore), I reeeeaaaallly need some caffeine inspiration before I can even think of getting my heart rate up. Solution: chai with almond milk.
O caffeine gods, how I love thee.
I usually eat breakfast at work (and then a snack...and then lunch...and then more snacks), so I usually load up my lunch bag before leaving the apartment. I've totally gotten weird looks on the Metro before for schlepping in with a bag full of food for an 8-hour work day. Hey, I'm a hungry girl.
The weird amalgamation of stuff in the upper right-hand corner is spinach, brown rice, and some cumin. I usually mix that with the black bean soup in the upper left-hand corner, and then I can feel all virtuous and whatnot about getting loads of protein, healthy carbs, iron, and dark leafy greens in one sitting. ;)
I'm usually hungry again shortly after getting home from work, and since it's hot as hell outside today, I decided to keep dinner light and go with my favorite salad.
Salad O' Awesome:
1 Cup chopped romaine lettuce
1/8 Cup slivered red onion
1/2 Cup sliced strawberries
1/4 Cup chickpeas
Annie's Naturals Papaya Poppyseed dressing, to taste
I was, um, STILL HUNGRY after two bowls of this, but I ran out of ingredients after the second serving -- so I resorted to fresh fruit. (I know, I know. It's a rough life when one has to resort to fresh fruit. Le sigh.) Dessert, woe is I, was two white nectarines and one fresh apricot, chopped up and topped with Coconut Bliss.
Now, about that to-do list...