Bah, I can't believe I had to skip last week's WIAW! I was running around like a chicken with my head cut off, preparing to leave for a friend's wedding in Savannah, GA. The wedding was beautiful, and I had an awesome time - I also got to wear one of the prettiest bridesmaids dresses of all time, which was quite lovely.
The day after I got back, I started feeling...not great. I now have a nasty, nasty cold. It's threatening to take up residence in my chest, and this does not make for a happy Lillian. I'm going to the doctor in a few hours (in hopes that we can keep this from morphing into bronchitis, and in search of meds that might actually help me sleep through the night without waking up 7 times to cough up a lung), but for now, let's just say that I have a license to ill.
My WAIW offerings will be, of course, those of a person who is totally not feelin' anything that might scratch her throat on its way to el estomago. We have here a veritable cornucopia of soft foods - and they may be soft, but they're goooood. Many thanks to Jenn at
Peas & Crayons
for hosting the best potluck on the interwebz!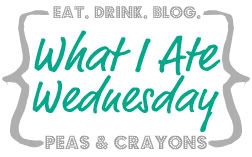 Breakfast: GF oatmeal with chia seeds, a mashed banana, blueberries, and almond butter. The oats have loads o' iron and fiber, the almond butter and chia seeds bring protein to the breakfast party, and the nanner and blueberries provide a good start to the day's campaign to eat plenty of fruits and veggies.
Oh, and don't forget the always-crucial component of chai with soy milk!
Lunch: Garlic soup with leeks, rainbow chard, cannellini beans, and rice pilaf. This was delish -- all the garlic helps fight infection, the leeks and chard added some veggie power, and the beans provided some protein. All in all, a good meal! (Recipe to come soon!)
Dinner: I had no desire whatsoever to cook, so hubs took me to Olive Garden for dinner. They have a decent GF menu, and I've found that I actually really like their GF pasta with marinara sauce. I got a side of steamed broccoli for some extra veggie power. (And I totally forgot to take a picture, so use your imagination!)
Hope everyone is having a lovely Wednesday!