My entry for this week's What I Ate Wednesday, hosted by the ever-awesome Jenn of Peas and Crayons, is going to be a bit different: in place of my usual display of noms, I'm going to focus on a recipe and the memory of one of my favorite people.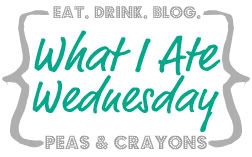 To explain what I'm getting at here, today would've been my Gram's 91st birthday. In honor of her birthday, I wanted to make a dish that I knew she'd appreciate: curry.
To give some context to this curry dish, Gram was 19 when World War II began, and 21 when the U.S. joined the fighting. She grew up in Denver and went to school in Philadelphia, so the war was far away -- however, she wanted to do her part for the war effort. She became a Red Cross Girl and quickly found herself on a passenger ship bound for India. She spent a year there, taking care of children and lifting the spirits of U.S. personnel stationed in India while traveling through the subcontinent. While she was there, she picked up a serious love of curry.
When she returned from India, she went to graduate school -- where, as luck would have it, she met my Grandpa. Grandpa became a Foreign Service Officer, and so Gram and Grandpa, my uncles, and my mom spent the next 20 years living between Washington and Europe.
The whole fam: My Gram and Grandpa, Mom, and uncles, circa 1954

By the time I came along, Grandpa had retired and they were living back in Colorado. Grandpa passed away when I was a baby, but Gram was a constant feature in my life. Growing up 2 miles away from my Gram meant that I was over at her house -- or she was over at ours -- all the time. She did a lot of cooking for us, and one of my favorite dishes was the chicken curry she'd learned to make while living in India. It was an amazing combination of flavors and textures: spicy, sweet, salty, crunchy, and velvety smooth, all wrapped into one dish.

When I came back from my year living in Israel, it was obvious that Gram's health was failing. After many rounds of tests, we found that she had Lou Gehrig's Disease. Known by its clinical name, Amytrophic Lateral Sclerosis (ALS), ALS is almost invariably fatal. We spent as much time with her as possible, and my parents made a Herculean effort (which, in my opinion, was nothing short of heroic) to make her comfortable and act as her primary caretakers during her final months.
She died four years ago this weekend, after having lived a truly impressive life. I still miss her all the time, and I think of all the events she's missed in the last four years -- my graduation from grad school and my wedding being chief among them. I always imagine her attending these events in whatever way she can: sitting in the rafters of the auditorium when I received my Master's, or chillin' in an empty pew to watch as I got married.
When I was in London earlier this month, I had a serious Gram moment when I went out for Indian food. The restaurant I went to served me a complimentary cup of coconut lentil curry soup, and as soon as I tasted it, I could her Gram's voice in my head: "Oh,
darling
! This is
marvelous
!"
Indeed, it was marvelous -- so, in honor of her birthday, I wanted to re-create that soup.
Coconut Lentil Curry Soup for Gram
2/3 cup red lentils
2/3 cup yellow split peas
1 can light coconut milk
3/4 cup vegetable broth
1 teaspoon curry powder
1 teaspoon grated ginger
1 tablespoons shredded coconut
For garnish:
toasted almonds, toasted coconut, and cilantro
Step 1: Put the lentils, split peas, coconut milk, veggie broth, 1 tablespoon shredded coconut, and curry powder into a stock pot.
Step 2: Simmer over medium heat for 30-35 minutes, or until it's nice and thick. The red lentils dissolve into a puree, leaving the split peas for texture. You'll know it's done when the split peas are intact but soft. In the last few minutes before it comes off the stove, add 1 teaspoon fresh-grated ginger.
Step 3: While the soup cools off a bit, work on the garnish. Cut up some cilantro leaves (they add zest, so I highly recommend them). Dry roast 2 tablespoons slivered almonds and 2 tablespoons shredded coconut in a pan over medium heat - watch them carefully, because they burn easily (as I almost learned the hard way when I got distracted and got them out of the pan at the very last second)!
Step 4: Serve up the soup, then garnish it with the coconut, almonds, and cilantro.
Happy 91st birthday, Gram - I love you!