Right now I'm in London (!!!!) for a conference, and HOLY CRAP THIS PLACE IS AWESOME. I freaking love it here. The city is gorgeous, the people are friendly, and the fact that I'm in a country known for its dry humor makes me immensely happy. I've been doing lots of touristy things in my free time, so I've visited Westminster Abbey, gone to Harrod's, walked around Buckingham Palace, and strolled through some gorgeous public gardens.
I'd also be lying if I said I'm not secretly (well, ok, clearly this is no longer a secret) hoping I'll run into John Cleese so I can tell him how much I worship Monty Python. When I imagine this scene, he's so taken by the fact that I included a quote from
Monty Python and the Holy Grail
in my wedding program that he invites me to join him for tea. We then sit around at a cafe eating GF crumpets and being sarcastic, and it's glorious.
All this running around London and hoping for a run-in with Mr. Cleese means I've also worked up quite an appetite. I am, in a word, starving.
Aaaand that brings me to: What I Ate Wednesday! I've really gotten addicted to this lovely food party, hosted by Jenn of
Peas and Crayons,
and I love seeing what other people have cooked, eaten, and enjoyed.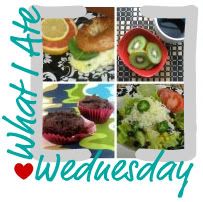 London is known for its good restaurants (I'm not talking about fish and chips, although it's known for that too). While I've been touristing (have I mention that I often make words up?) around, I've had delicious potato-leek soup at
Pret a Manger
and a warming, yummy coconut-vegetable-tofu soup (
yasai itame
) at
Wagamama
. I'm also pretty damn impressed with London's commitment to fresh-squeezed juice: everywhere I've gone, there have been some delicious, completely fresh fruit juices on the menu.
Me like.
By way of happy coincidence, one of my dear friends from DC is also in London on her way to Africa -- where she'll be spending the next year. She happened to have a 24 hour layover during my time in town, so we decided that it was crucial for us to get together one last time to see her off in style. We met up for dinner, and decided a Bellini would be a good way to commemorate her last night in a first-world country until April when she returns for R&R:
I then followed up on my cocktail with a HUGE platter of chicken curry (side note: although I'm mostly vegetarian, the key word is mostly -- I do eat chicken from time to time :)).
We then said a wistful goodbye -- insert sad face here, because I'm really going to miss her. However, getting to see her made an already awesome trip even more so!
Now I'm off to pack for my return flight tomorrow night. One of my key tasks will be making an almond butter sandwich on GF bread, since the airline I'm flying with declined my request to order a GF meal. (Boo and hiss! It'll be a looooong flight with very little to eat -- I guess I'll just have to drink a lot of water and apologize profusely to the poor soul in the aisle seat who'll have to let me out to visit the ladies room 20 times in 7 hours?) With no utensils and days-old bread, this should be a challenge...wish me luck!