I love almost everything about fall. I love the vibrant colors, the (mostly) gorgeous weather, the arrival of pumpkins at the grocery (!!!), knowing that Thanksgiving and Christmas are around the bend...but I don't love the increasingly waning hours of sunlight.
Confession: I'm a sunlight junkie. Hubs has speculated that perhaps I'm part plant, because I feel weak and all blah-like without a good amount of sunlight in my life (apparently photosynthesis is a key chapter in the manual for Proper Care and Feeding of Your Lillian).
In addition to the lack of photosynthesis time as the days grow shorter, the fact that it's pitch dark at 6 a.m. makes it awfully hard to pull myself out of bed. I love it at the height of summer, when at 6:15 light starts streaming in through the shades. Those days usually see me bounding out of bed at the crack of dawn and, no lie, being really stoked about it. These days, by contrast, see me sloooooowly joining the world of the living and sloooooowly draaaaaaagiiiing my butt out of bed.
Which, of course, makes coffee an even more critical part of my morning.
And, speaking of coffee, it's the first item in this week's What I Ate Wednesday, a virtual potluck hosted by the fabulous Jenn of
Peas and Crayons
. I love WIAW - it's a fantastic foodie forum (oooh, alliteration!), and I love seeing what people are cooking and eating.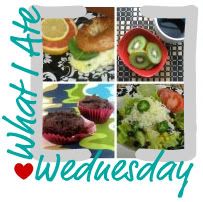 Snacks!
I'm a serious grazer, so snacks are a maaaaajor part of my day. Today's snacks consist of grapes, an apple, Greek yogurt, EnviroKidz GF rice bar. I brazenly love all things EnviroKidz, even though they're designed for kids who are, like, 25 years younger than me. :-/ Some things not pictured here: the snacks I know I'll consume (stash of almonds that I keep at work: I'm lookin' at you, kid) and agua, agua, agua! I've been dehydrated like a mofo lately, so I'm trying to get a lot more water in my life.
Lunch: I made a vegan, GF lemon-roasted garlic soup last night (recipe will show up here tomorrow!), so I decided to take some of that delicious business plus a slice of
nutty, multi-grain garlic bread
for lunch.
Dinner:
East Coast rainy days usually make me homesick for Colorado, and what's a girl to do when she's homesick but unable to be anywhere near her homeland? Make
Lazy Girl Toastadas
, so that at least her dinner can be something that reminds her of her favorite state.
Hope everyone has a fabulous Wednesday - happy WIAW to one and all!